You may have heard the big announcement earlier this year on the retirement of Salesforce Marketing Cloud Social Studio scheduled for 2024. In this blog, we'll walk you through our thoughts and recommendations on an alternative for Social Studio. So you know what to do when Salesforce Social Studio retires.
The big announcement
Salesforce announced the retirement of the following Salesforce Marketing Cloud Social Studio subscriptions on November 18, 2024. A lot of people are left with the question "What to do when Salesforce Social Studio retires?". Salesforce hasn't made any updates or enhancements to Social Studio in over a year and isn't selling licenses after January 31, 2022. Social Studio will sail into the sunset being a social media marketing tool to help you grow your business through greater global collaboration. Companies used it to streamline social media publishing, optimize monitoring, analyze data, and drive community engagement. With automation features for routing and other administrative tasks, it saved companies time and resources.
At the end of your contract, you will no longer be able to access the Social Studio application. All associated customer data will be deleted once your contract ends. So Salesforce recommends retrieving your Social Studio data at least 90 days before the Order End date of your Marketing Cloud Social Studio Product(s).
The good news is that Salesforce is already working to create alternatives to Social Studio by teaming with third-party social scheduling platforms. Depending on your company size, industry, and goals, we have a recommendation ready to implement before Social Studio is completely retired.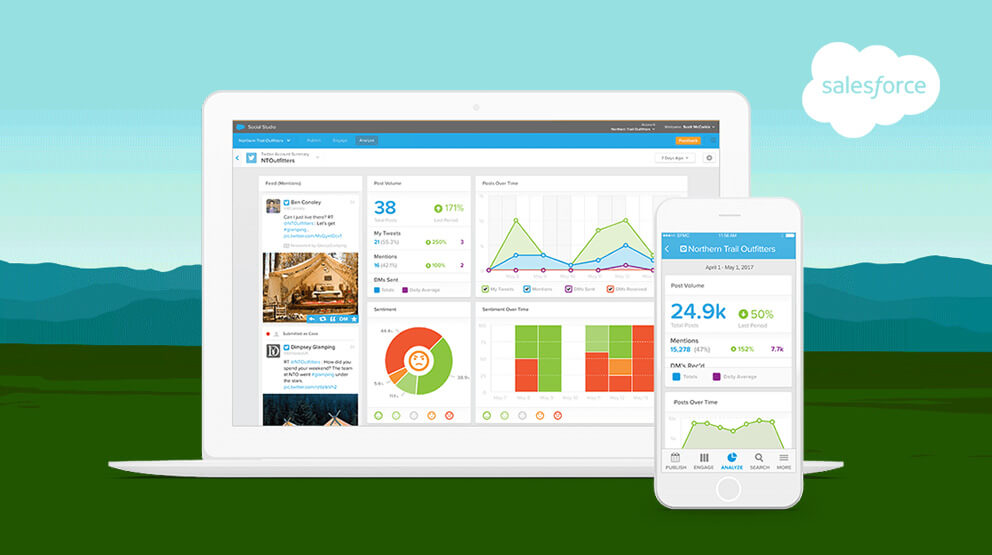 The alternative
An alternative to use after Salesforce Social Studio retires is Sprout Social. Sprout is a social media management software providing companies with tools to grow and manage their social communities. It provides users with collaboration tools and other features for monitoring and analytics. This social CRM tool, when used well, can bring your social media presence and engagement to new heights. Sprout is a fully integrated platform for social media management with which you can deliver relationship-building service:
Quickly act to resolve customer issues with easy case handoffs from your social team.
Gain additional context as you engage with contacts and leads with access to social messages and conversation history.
Sprout Social and Salesforce announced a global partnership. This partnership makes it easy for Salesforce customers to manage their full social media presence – engagement, publishing & scheduling, analytics, listening, advocacy and platform integrations – through Sprout's industry-leading social suite.
The advantages
This partnership enables Salesforce customers:
to better connect with their audiences
to streamline publishing workflows
to deliver excellent social customer care
to turn social data into meaningful insights
to gain a full 360-degree view of their customers
to turn social data into business-critical insights—all in one, centralized location
To easily build a single view of the customer, Sprout Social integrates with Salesforce solutions integral to your business including Service Cloud, Sales Cloud and Slack.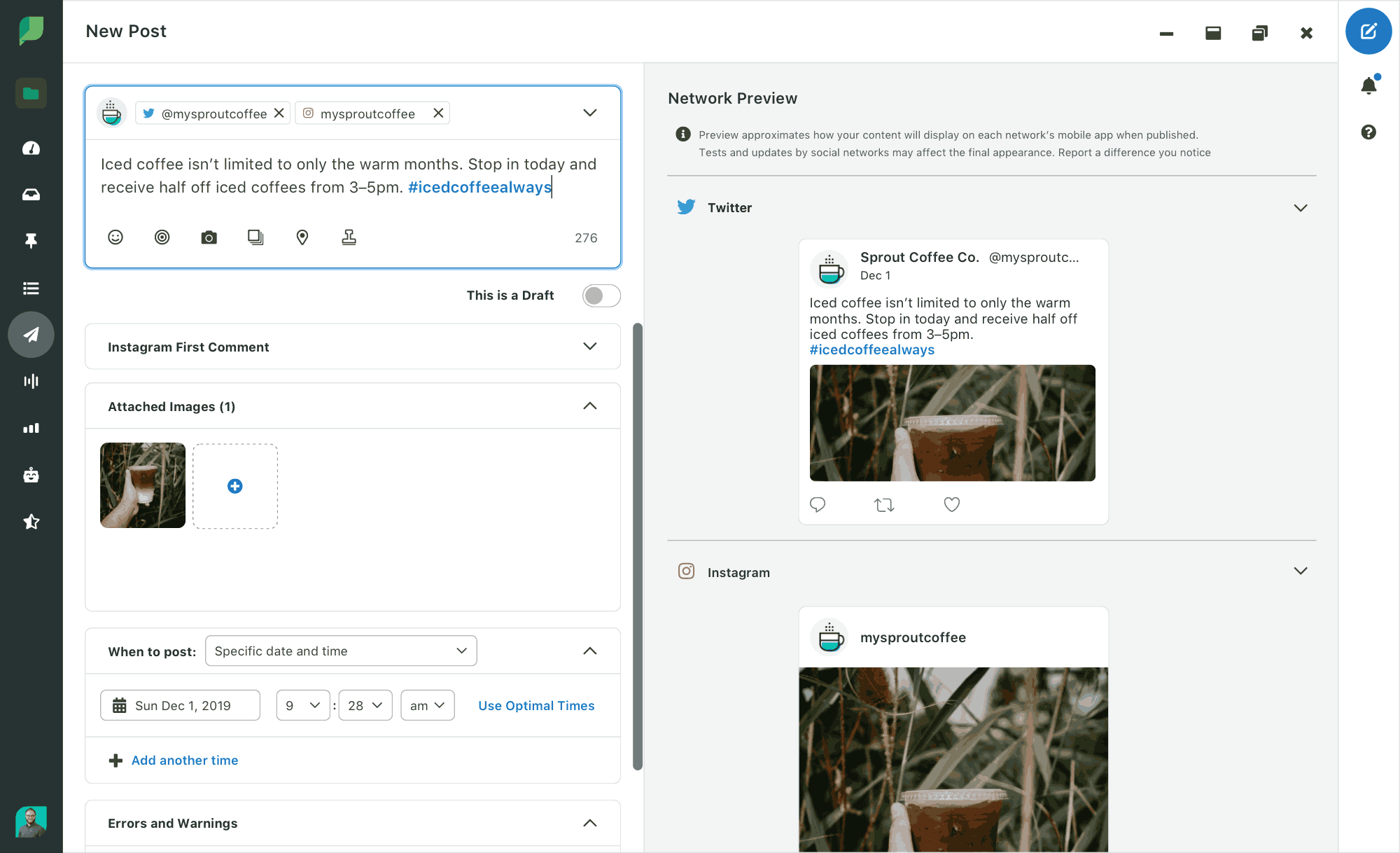 Both solutions are integral to ensuring it is possible to create meaningful and personalized touch points throughout the customer journey. With a more connected suite of products, we look forward to increasing the impact of our initiatives and implementing new, efficient workflows across the organization.
You can drive strategic decision making with available analytics for Instagram, Twitter, Facebook, Linkedin, Youtube and Pinterest. It's easy to compare your social performance to your competitors' to find new opportunities. Furthermore, you can directly tie social efforts to business results with automated, presentation-ready reports. Reach your audience in publishing and scheduling posts for Instagram, Twitter, Facebook, Linkedin, Youtube and Pinterest. Organize your posts across profiles, networks and campaigns using a shared content calendar.
Just like in Social Studio, you can track and analyze relevant conversations to understand sentiment and brand health. With this social listening, you keep your finger on the pulse of industry trends and identify brand advocates.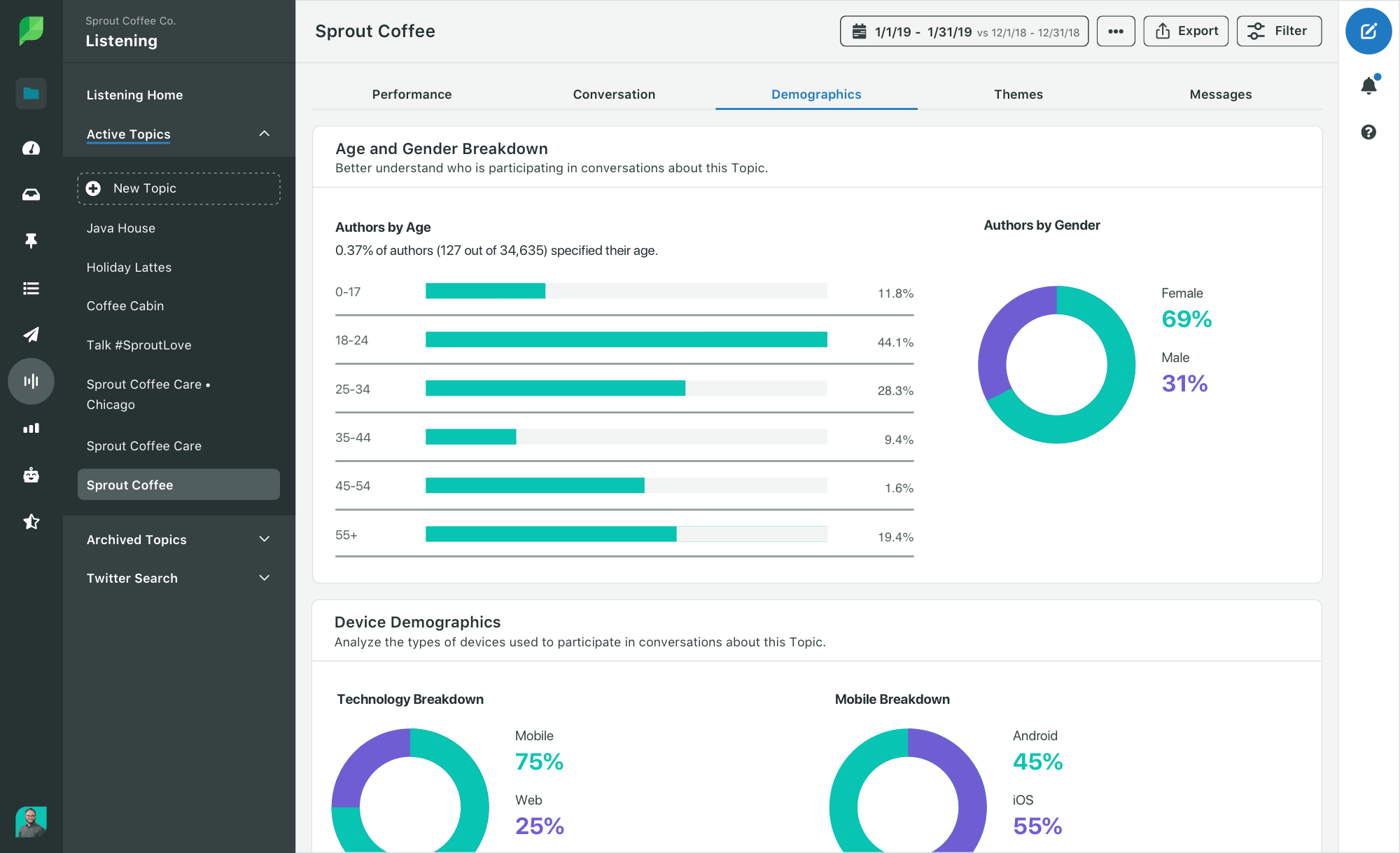 Sprout Social and Salesforce
Thanks to the integration with Service Cloud it is possible to easily handle all your cases and messages in real time with the right context. Maintain your Service Cloud customer data integrity while empowering your agents to engage with customers in their channel of choice. You can support your customers on their preferred social channels, create a full 360-degree view of your customer, get messages to the right agent quickly with intelligent automated case routing.
Lastly, you can view, edit and respond from both Sprout Social and Service Cloud. You can surface social insights along with your other metrics. This to easily share performance data across your organization with Marketing Cloud Sprout Social integration. It's easy to centralize your workflows and get real-time updates through Slack notifications for approvals and tasks. You can send qualified leads to your sales team and create new contacts in connection with your social channels with Sales Cloud.
Sprout Social is trusted by 30,000+ world-class brands and organizations of all sizes eg. Four Season's Hotels and Resorts, SONY, KraftHeinz, Shopify, McKesson, Levi's etc.
If you have more questions, let us know!
Written by
Margaux Decremer
Marketing Cloud Client Success Manager
Technologies
Services & Solutions