The Interactive Email Form block in Marketing Cloud Content Builder allows marketers to receive subscriber information like profile data, product reviews, and sales leads directly from embedded forms in an email. Allowing subscribers to submit forms without leaving their inbox increases customer engagement and gives marketers more data. We tried this new Marketing Cloud release and we love it!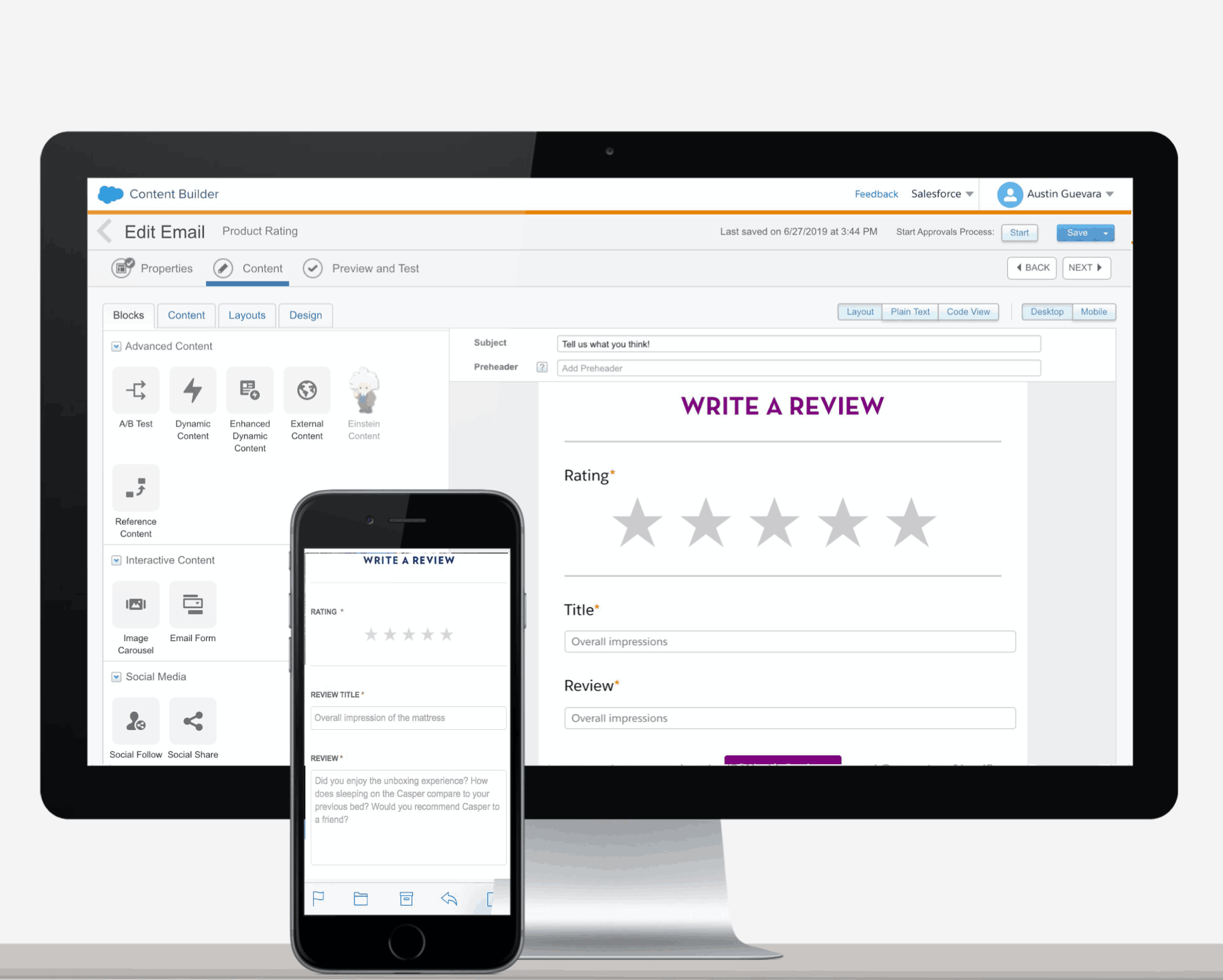 Collect more customer data and drive personalisation
Interactive email allows subscribers to take action directly in their inbox with web-like functionality in an email. As a digital marketer, one of your key goals is to get customers to take action on your messages. The easier it is for customers to take action, the more likely they are to do it.
Interactive Email Content has various use cases such as progessive profiling, reviews & feedback, lead forms and service forms. All of these examples are fundamentally changing how people interact with email. Reduce friction by embedding reviews and lead forms in email. Collect preferences or demographic data, such as name, birthday, address, product preferences, interests etc. You can include this interactive content in an onboarding welcome series.
When you let people subscribe for your newsletter, you can easily send a welcome or confirmation mail with interactive content which enables the subscriber to add more information. It will definitely improve customer profile completion rates. You'll know how to use the customer-specific data to power personalization across channels.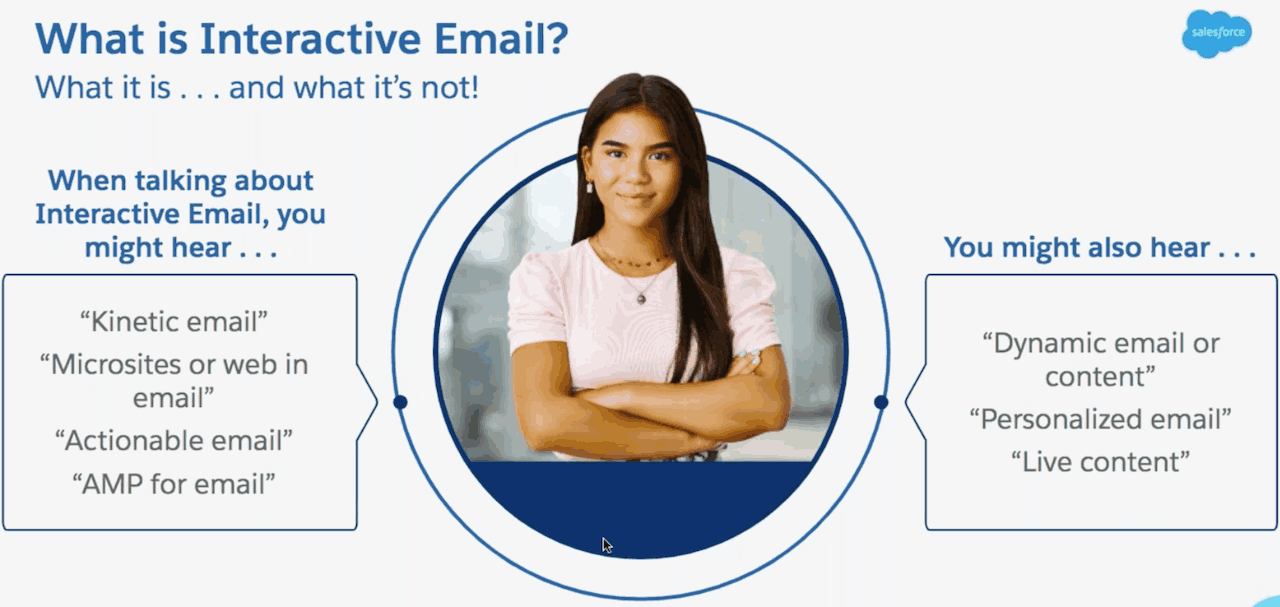 Boost engagement and get results
1. ENABLE USERS TO TAKE ACTION DIRECTLY IN THE INBOX WITH COMPELLING INTERACTIVE CONTENT
No need to go to a second page outside the inbox, you can ask your subscribers to fill in the information you need in the email itself. Preference centers are easily updated. Detecting what information is still missing enables that only those fields are displayed. In that way, this approach is very user-friendly.
2. INCREASE REVIEWS COLLECTED, EXPAND CUSTOMER DATA PROFILES, AND DRIVE MORE ACTIONS FROM EMAIL.
The most widely supported type of interaction is in-email forms, like an in-email product review form. For retailers, we recommend using interactive content for collecting product reviews, asking for feedback on an experience, or even surveying your customers. It will increase your feedback and product reviews volume. Enhance existing reviews and feedback, or think of additional topics in the journey where you might want to collect data. In this example, a product review is being completed within the email itself, instead of on a web or mobile landing page. The customer has selected a star rating, entered a title for the review, and is writing the full review.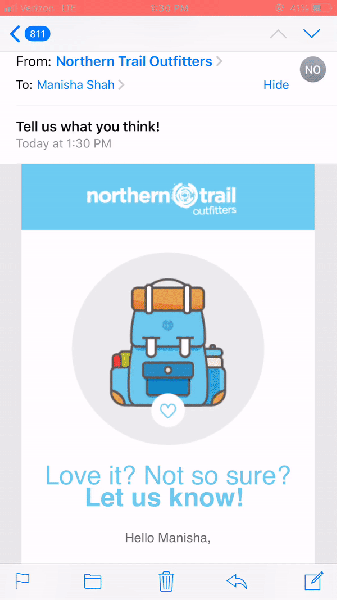 Some requirements to enable interactive content: interactive Cloudpage under the form of a Thank You page, an URL redirect or other content from Content Builder.
3. KEEP IT CLEAR AND SIMPLE.
Interactive content is one way to reduce friction and increase the chances that your customer will interact. Instead of clicking to a web or mobile site to complete a review, interactive email lets customers do it all right in their email client—allowing them to give feedback quickly and seamlessly.
For forms it might be useful to make use of an expiration date. This will hide the content block when the date has passed.
You can track the results in reports. Interactive email enables customers to provide information with much less friction. Now that you have it, what will you do with it? Personalize campaigns, kick off relevant journeys, or move it to the appropriate place? No matter what you choose, make a plan.
Interactive email is a new way of thinking.
Interactivity brings some exciting innovation to email, but it's important to keep in mind which interactive experiences will work best for your audience. So think about which email campaigns would benefit from interactivity? The goal is to get better results. So, can you make it easier for your customer to complete their profile or give feedback?
How can you make it clear that your email is interactive? You might want to help your subscriber by guiding him from the static part to the dynamic and interactive part of your email. Think about helper text and visual elements that guide the customer through the interactive experience.
Interactive email is a new take on the way emails are coded. It requires email design and HTML. Let this Salesforce' video be more inspirational on why and how to use interactive content.
Written by
Margaux Decremer
Digital Marketing Consultant
Technologies