Yesterday we attended Salesforce World Tour Essentials in Brussels. Not only did we have the pleasure to watch 3 of our customers in a panel talk about "Balancing Personalisation and Cost-Effectiveness", but also had our very own Jan and Brecht hosting a theatre talk about "Making sense of Headless and Composable Commerce".
A short recap…
The Panel Talk
Retail leaders, Casa International, Inno and LolaLiza joined a panel discussion moderated by Salesforce's Account Director Charline Spruyt on navigating the intersection of personalisation and cost-effectiveness. The panel shared insights on leveraging data and technology to craft personalised experiences that build customer loyalty.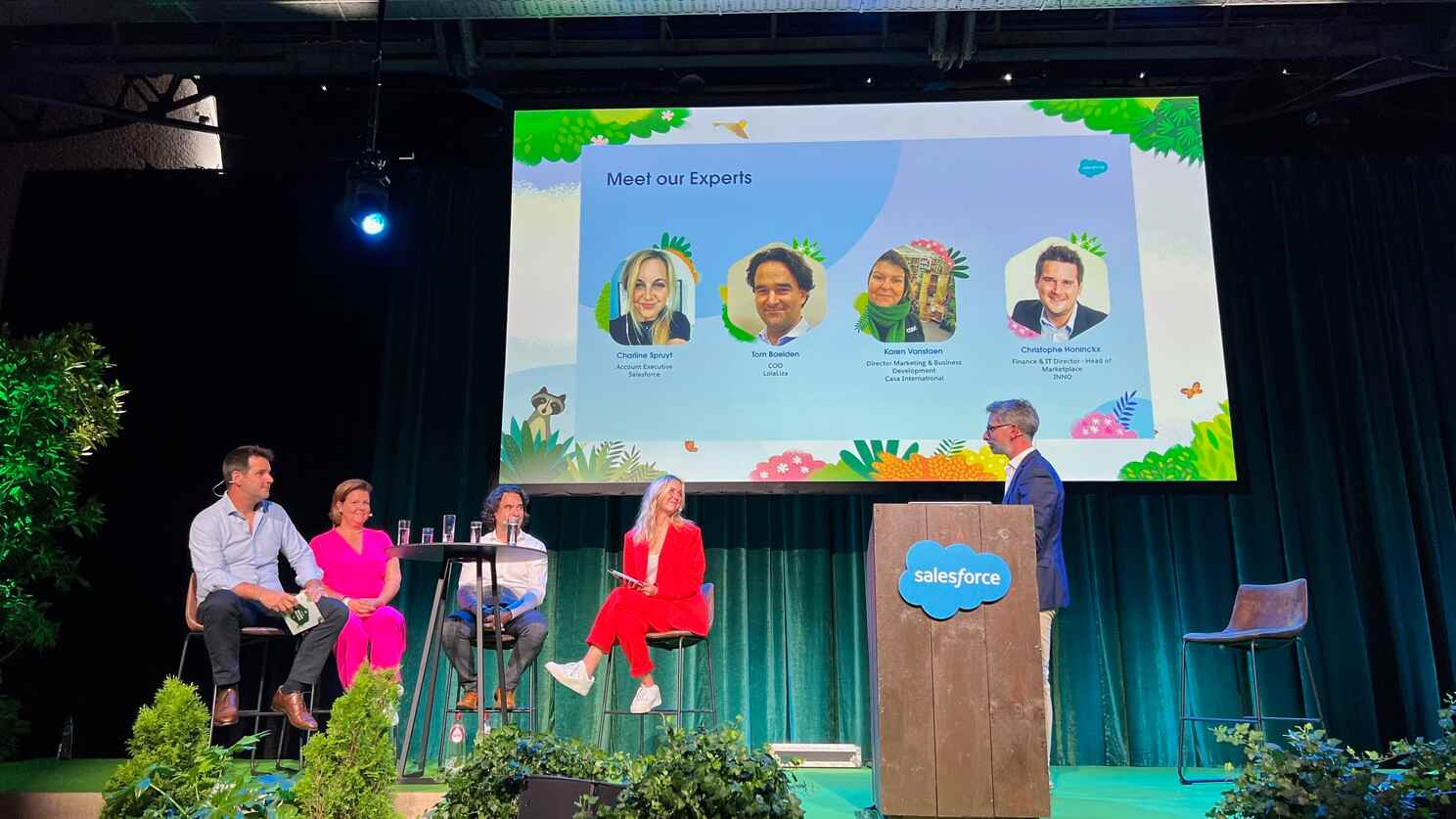 Takeaway's per customer
Here are some key takeaway's during Salesforce World Tour Essentials Brussels as shared by our customers:
Casa International, by Karen Vanstaen:
We focussed on the digitalisation of our loyalty proposition in order to focus on the retention of our customers, and gain deeper knowledge to stay relevant for our customers.
We did quite some implementations last year. With these new platforms being rolled out into our organisation, internal adoptation is also really important and deserves the required focus.
Having a clear view on the roadmap is important, clear OKR's, and take a step by step approach.
There's a huge unlocked potential in the first party data, resulting in reduced acquisition costs, driving personalisation.
Inno, by Christophe Honinckx
We continue to build on an omni-channel approach. Every euro spent must return al least one or preferably more. Focussing on a customer centric approach is definitely a way to achieve this. We choose not being a price leader, we focus on creating a WOW effect.
Salesforce is really helping us achieve our goals.
Being able to rely on a strong business partner like FORWARD is key to drive business together. It's fundamental, next to a clear roadmap, to have a strong backbone, and break silo's.
LolaLiza, by Tom Baelden
We're not global brand with similar budgets, however, our customers have the same expectation on their shopping experience. We must be wise in the investments we make. That's why we decided to invest in a new PWA webshop and a new mobile App, fully focussing on a great customer experience.
Over 25% of the turnover is on mobile, so it's a logical choice to make an investment in a mobile solution, in order to build loyal customers answering their high expectations.
It's about making smart choices. There's so many ways you can work on personalisation. Morphology is the path we chose because you can focus on all. Do more with less with the right technology choices.
Read more on some customer cases here:
The Theatre Session
Our very own Brecht Morrhey and Jan De Vos shed some light on the differences between Headless and Composable Commerce, and why brands would choose for a Composable Commerce architecture.
Road to Headless
First, from a technology stack perspective, we showed the Salesforce road to headless over the past years, showing the vast amount of experience Salesforce Commerce Cloud (and FORWARD) has in the world of Commerce.
With our Composable Acceleration, we even take it one step further. Salesforce's Composable Commerce solution, combined with our FastForward accelerator and industry expertise provide organisations with the agility and flexibility they need to outpace their competitors.
Headless vs. Composable
Next, we provided a high-level overview of the architectural differences between SFRA and Composable Commerce Architecture. In the traditional SFRA Commerce Cloud is responsible both for providing the data and rendering the user interace. In the Headless architecture, a decoupling of the frontend and backend is achieved through an additional backend-for-frontend layer, which receives the data from Commerce Cloud and renders the user interface.. This architecture already provides the benefit of faster independent deploy and optionally creating multiple applications running on the same backend, such as a native app. In Composable, we add the modularity aspect to allow you to add additional service providers to power your frontend.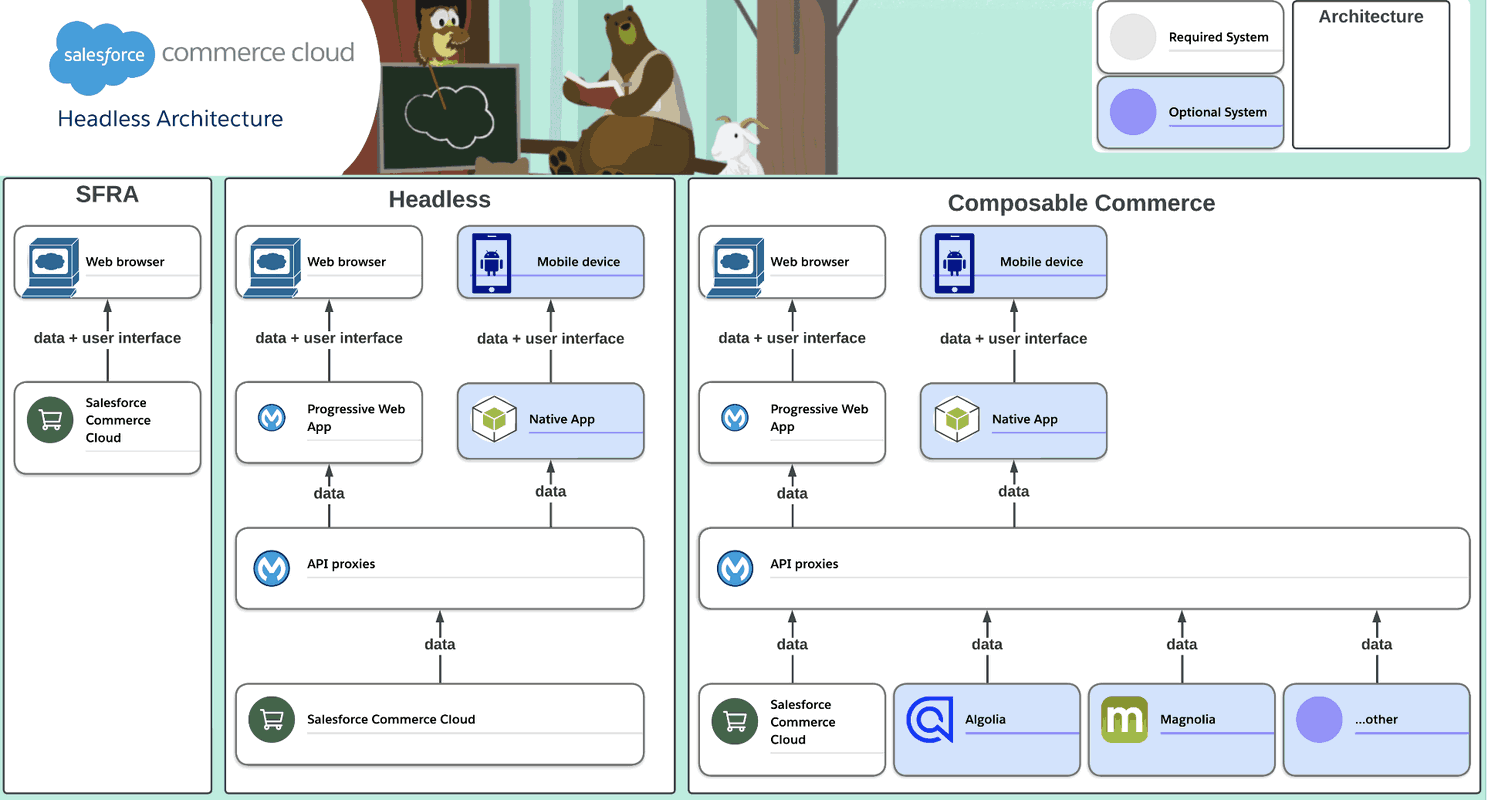 Composable commerce is a collection of best-of-the-breed solutions whereas a headless just focus on decoupling the frontend from backend to provide different experience-based personas, channels, business model, and so on. A Composable solution is built on a Headless architecture.
Want to know more about our Composable Commerce Accelerator and the extensive features build on top of the Salesforce solution? Make sure to check our FastForward Accelerator blog post on this topic, and also read through our extensive blog posts (see below) and download our white paper on Composable Commerce.
Need more info on Headless and FastForward? Check out the following blogposts.
Written by
Bruno Braes
CEO/Founder
Technologies
Services & Solutions
Industries